Merchandise and other very useful items of interest...
T-shirts are HERE!  Large and X-Large.
Be the first to be seen on the scene with this luxurious black machine-woven cotton/polyester blend T-shirt of superior and unmitigated quality.  Throw this on with your other natty threads to show you have what it takes to buy one of these bad-boys, even if you've never seen us play.  Once you wear this garment of greatness you'll lose your head for not seeing Steel Standing play for a day longer!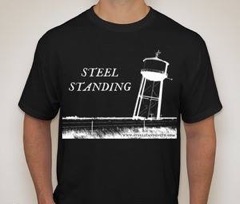 Our new Logo/Bumper-Sticker (?)